Gold Environmental Award for Protecting and Improving the Environment
Dean Group have been awarded a Gold Environmental Award from Salford City Council for our efforts to protect and improve the environment.
Salford City Council has just conducted an audit and awarded Dean Group with Gold – we couldn't be more pleased about this, as we believe that taking care of our planet is one of the most important things a manufacturing company can do.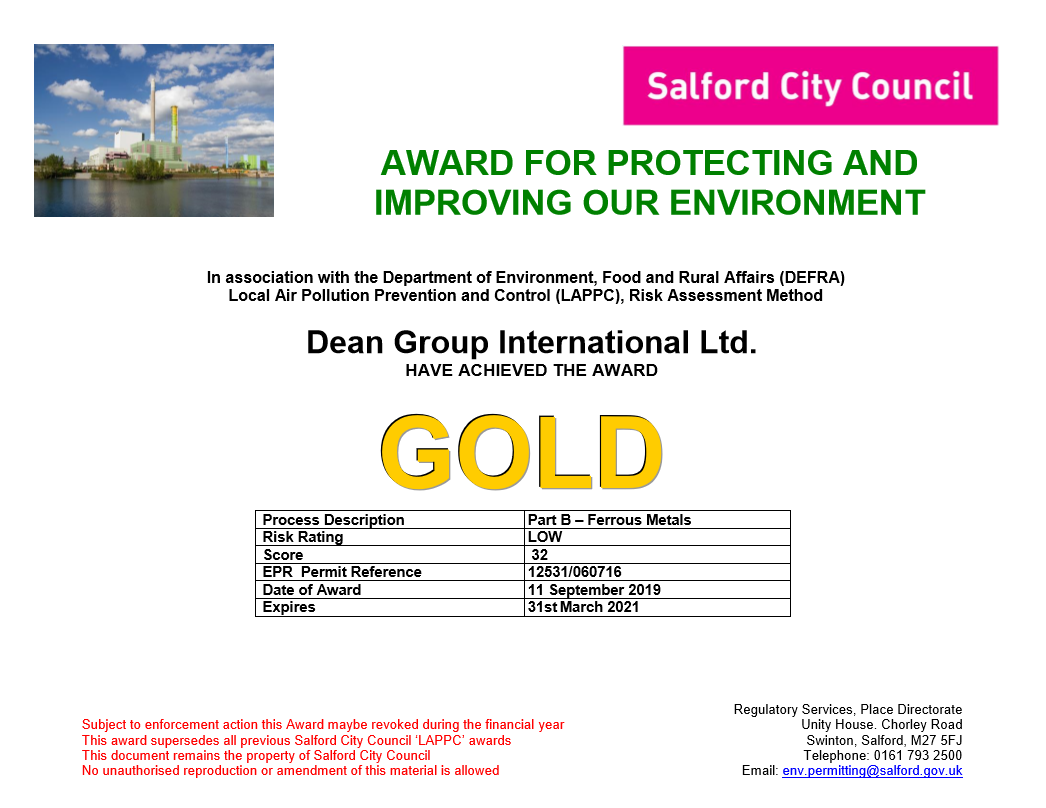 It's our goal to take responsibility for the impact we have on the environment and to operate in a way that is as eco-friendly as possible, so our practices reflect these values. As an investment casting company, we apply this philosophy in everything we do; from the shop floor to becoming a paperless office, we recycle and control our emissions, so that we can reduce our carbon footprint.
More specifically, during our casting process we recycle our metals and waxes in order to cut down waste and reduce the demand for raw materials. The introduction of a new variable speed compressor has allowed us to reduce our energy consumption and to channel the warm exhaust air back into the factory to assist with heating needs.
With our rapid prototyping process, we provide a quicker turnaround of the exact quantities of samples our customers require to validate their products, which eliminates the need to create large quantities of untested parts. In our aluminium investment casting (ELITE process), we can also use recycled metal, since aluminium can be recycled over and over again without losing its properties.
Dean Group believe to be amongst the cleanest manufacturers of investment castings in the country, and all of our employees are encouraged to take responsibility for their area and to keep the building and surroundings clean and tidy.
It's great to see our efforts recognised by Salford City Council, who have carried out an inspection of our premises and believe we are deserving of such a fantastic award. Dean Group was also provided with a low-risk rating.
In addition, and as further proof of our investment in the environment, we have also taken the Green Pledge and received the ISO9001-2015 Quality Certificate. With our quality processes and services, we can easily offer you the standards your products require while protecting the planet and creating a more sustainable industry at the same time.
‹ Back to News
Contact Us