Visiting School at Dean Group
Everyone at Dean Group takes our role as the leading metal casting foundry very seriously, with a high dedication to each of our client's commissioned works, but we don't stop there. We are also dedicated to helping ensure the future of the broader manufacturing industry by supporting the inspiration and education of students eager to be a part of it.
Read on to discover our latest contribution to this goal, a recent visit of local engineering students.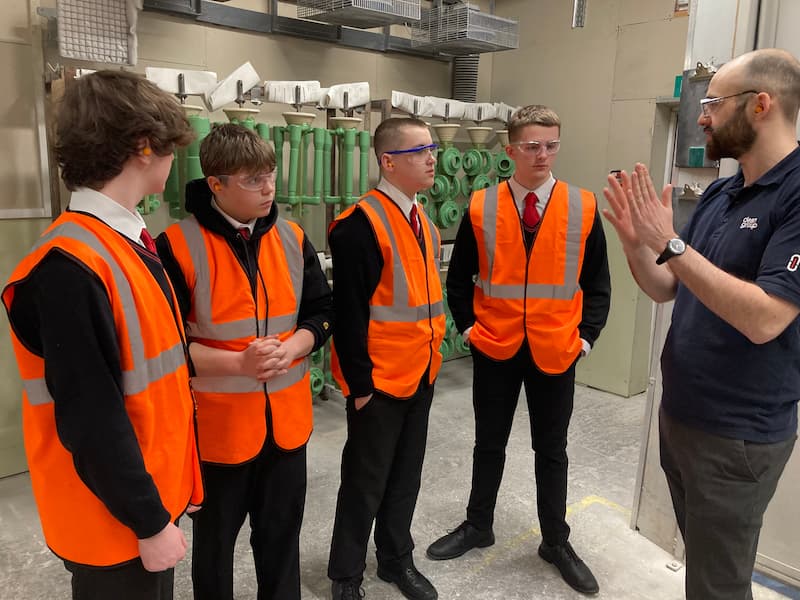 Manufacturing Guided Tour
This planned visit had a particular purpose: to assist in educating local students wishing to potentially start a career in a vital part of the UK's industry, investment casting. Our facility is in Irlam, Manchester; as such, we are ideally placed to assist the local academy with its current manufacturing course. While we do not tend to take on apprentices as early as 16, we are happy to encourage older students to explore our profitable industry.
Our staff happily engaged with young students from Irlam and Cadishead Academy who were currently enrolled on a metal fabrication and manufacturing course. With all the safety procedures appropriate to the situation, we walked these 18 to 19 years old students through our casting process and provided them with a visual guide to metal casting outside the classroom. Areas they observed were our initial wax creation stage, mould creation, metal casting and the final treatments.
This comprehensive tour took them from start to end and provided them with invaluable, contextualised education on how a local manufacturing company such as Dean Group conducts operations, including our unique 3D printing investment casting process.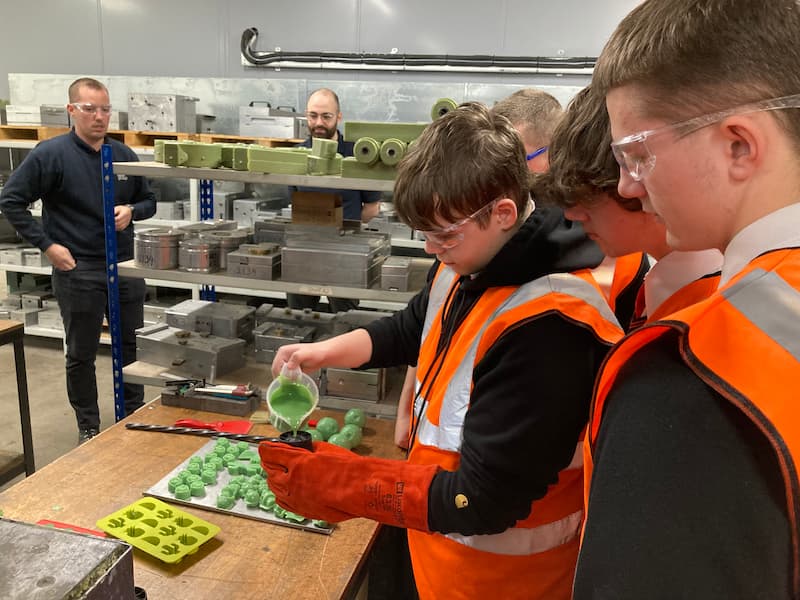 Hands-on Investment Casting Practise
Access to our expert teams' decades of knowledge is an advantage that will put their classroom studies into context. We further engaged with these excited students by providing a hands-on experience with the initial stage of our casting process, the wax creation. Each student was allowed to create their waxes before they left, which were later taken through the entire process, and their metal creations were gifted to them as a souvenir of their tour. Students from each group were also allowed to try their hand at shelling in the investment area of our UK foundry.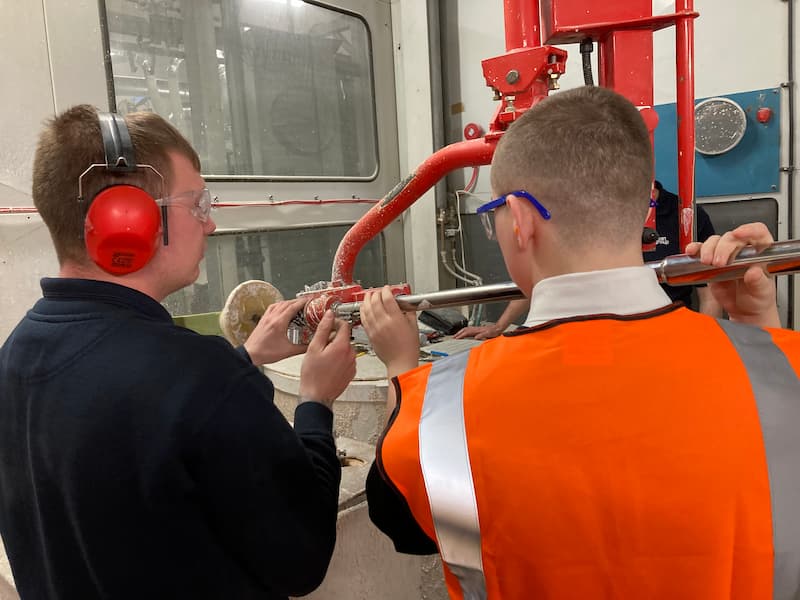 Why Manufacturers Need to Be Supportive
Manufacturers have a crucial role in educating the next generation of student engineers. By opening their doors to school visits, apprenticeships, and work experience placements, manufacturers can help to inspire and educate young people about the exciting world of engineering. In addition, manufacturers can help address the skills gap within the industry by encouraging young people to pursue careers in engineering. This benefits not only the students themselves but also the manufacturing industry as a whole.
Furthermore, by working with schools and colleges to provide relevant and up-to-date information about the industry, manufacturers can help to ensure that the next generation of engineers is equipped with the skills and knowledge needed to succeed in this rapidly-evolving field. Ultimately, by investing in young people's education, manufacturers are helping to secure the future of their own businesses and contributing to the growth and development of the wider economy.
Benefits of Manufacturing Apprenticeships
Beyond student tours, apprenticeships are a beneficial step for recruiting new talent to the industry. By allowing apprentices to work alongside experienced team members, they will develop a wide range of customised skills and "tricks of the trade" learnt from their supervisor's experience. Additionally, promoting this type of hands-on learning opportunity with 18-year-old students or older provides the confidence they need to succeed in engineering. By offering unique ways of working outside of traditional lessons, apprentices will learn from the best in the business and gain valuable insights they might not otherwise have access to in a classroom environment. Ultimately, by taking this apprenticeship approach, manufacturers will help secure the industry's future and ensure that the next generation of engineers is well-equipped to succeed.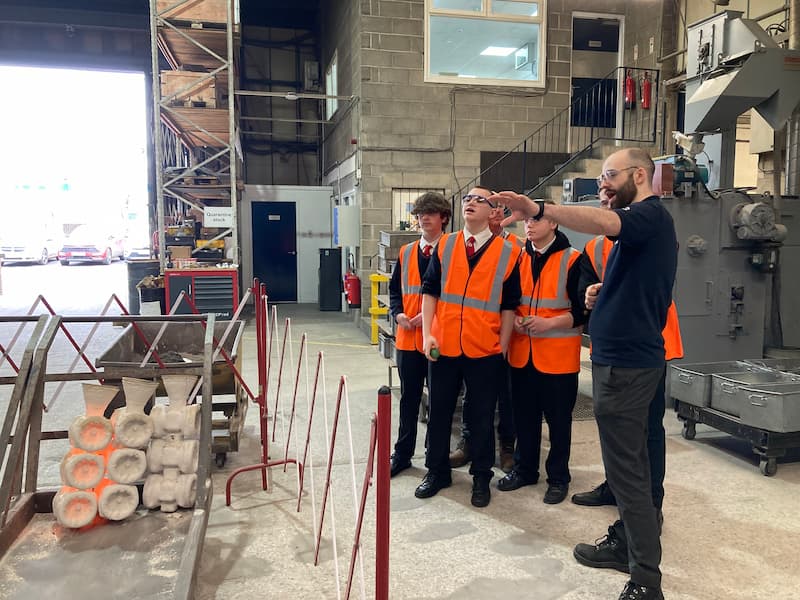 Manufacturing's Importance to the UK
Metal casting is an important industry in the UK, contributing significantly to the economy. The resulting products are used in various industries, from automotive to aerospace, construction, and more. The metal casting industry in the UK is a significant employer, providing jobs to thousands of people across the country. According to a report by the Cast Metals Federation, the industry has an annual turnover of over £2 billion and employs over 25,000 people across the UK.
Furthermore, the metal casting industry plays a vital role in the UK's supply chain, supporting many other industries such as engineering, construction, and manufacturing. The sector also contributes to the UK's exports, with many UK-based metal casting companies exporting their products and services to other countries. Whilst these facts are positive, they are dependent on constantly recruiting talented individuals to start their careers in manufacturing. For this reason, it's vital that spreading awareness of how successful a student's career will be within the sector is something manufacturers cannot ignore.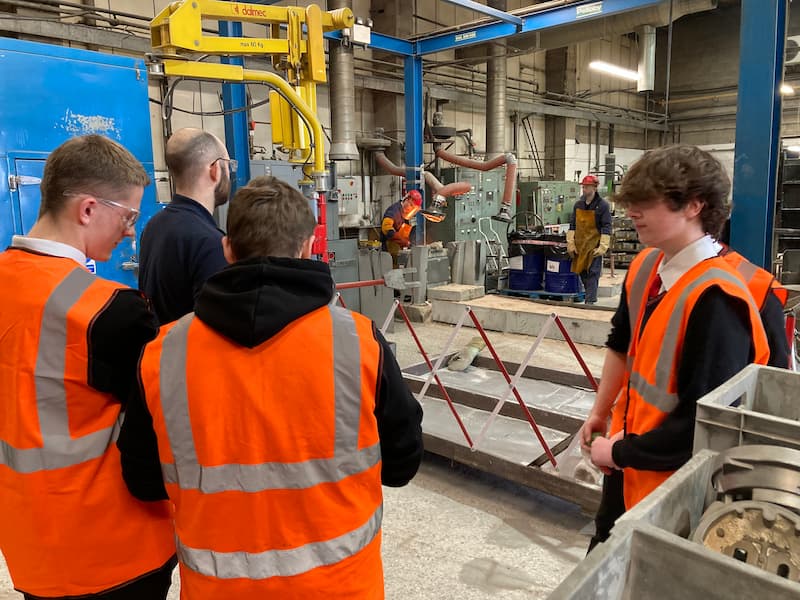 Dean Group: Cast From a Better Mould
We feel this visit was a resounding success as the students were very interested in what we do, asking lots of insightful questions about our processes and clearly showing interest in working at an investment casting facility like Dean Group in the future.
It was an event that genuinely made us feel more connected to our local community and a valued manufacturing employer as we supported our nation's invaluable industrial sectors by inspiring these students on their future manufacturing careers. Read our news page to learn about Dean Group's invaluable position within the industry, and contact us to discuss how we will assist your next casting project.
‹ Back to News
Contact Us