Dean Group Invests in 3D Technology
Last month we launched our brand new 3D printing room in our Manchester based casting foundry, allowing us to create prototypes through 3D printing technology, something which will benefit our processes and customers.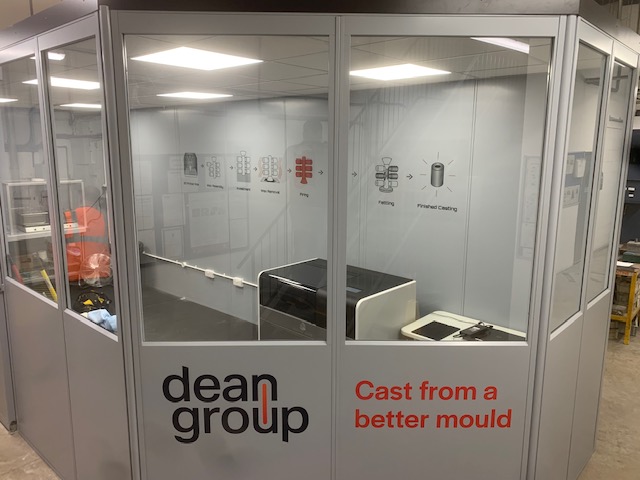 Our Investment in 3D Printing Technology
The 3D printing room has been part of a £200,000 investment in bringing our manufacturing process into the modern-day. Since the pandemic, we have recognised just how important it is to have the technology that makes the investment casting process quicker, right here on our doorstep.
Our brand new 3D printer allows us to create high definition, incredibly accurate prototypes of a component with ease and efficiency.
How 3D Printing Works
When producing a prototype, the information required is supplied by our clients, and we use it to create a computer-aided design (CAD) model of their required casting. The information about this model is fed into the software of our 3D printer, and the printer develops the wax competent that will then go on to be used during the investment casting process, provided it meets the specifications required. Changes can be made quickly should they be needed.
You can print this competent quickly and with high accuracy straight from CAD. Our dedicated 3D printing room will allow us to generate moulds for a variety of components.
As standard, we recycle the wax from our casting process as much as possible, and this won't be any different with the 3D printed prototypes we create. While the wax cannot be used to create future prototypes, it can be used in other areas and we work to ensure as little as possible goes to waste. The process is already fairly green, and we will continue to make improvements wherever the technology allows us to.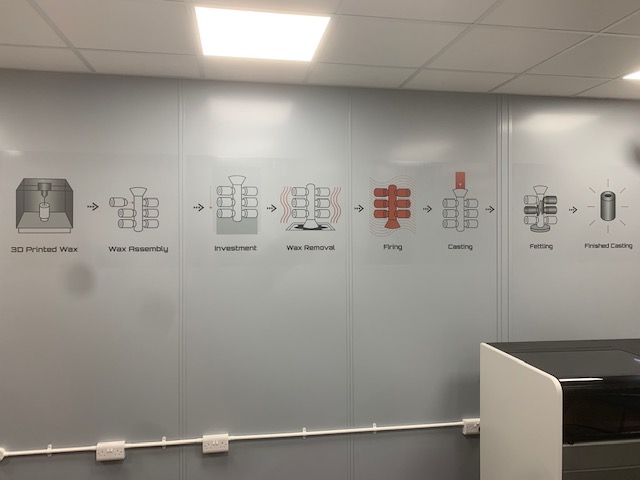 The Benefits of This Technology for Our Clients
There are three main benefits our clients will receive through this new process. The first is a huge improvement in lead time.
Traditional injection moulding for wax casting prototypes can have a lengthy lead time. The method is carried out via a producing tool which uses information from a CAD model to remove aspects from a solid block or bar of wax and form into the desired shape by cutting, drilling, and grinding. In working practise it can take between 4-20 weeks for the hard tooling process to complete. With this technology on hand, we will be able to 3D print investment casting prototypes within a much quicker timeframe for our clients, oten between 1 to 5 days.
There's no doubt that this will offer the most significant benefit to our clients. The time taken from initial design to final cast will be much quicker, meaning that products can reach their shelves faster. In addition, the higher accuracy and less need to compile multiple parts of a prototype into one mean that our clients get to see their prototype as it is desired, faster. Should the first prototype require tweaks and changes following manufacture, we can make these changes quickly and have the new competent ready for review.
Thirdly, the process will help reduce the cost of the process for our clients. Hard tooling prototypes could require a significant upfront cost. While there are still costs associated with the process using 3D printing, they are a fraction of what they could be using the traditional method.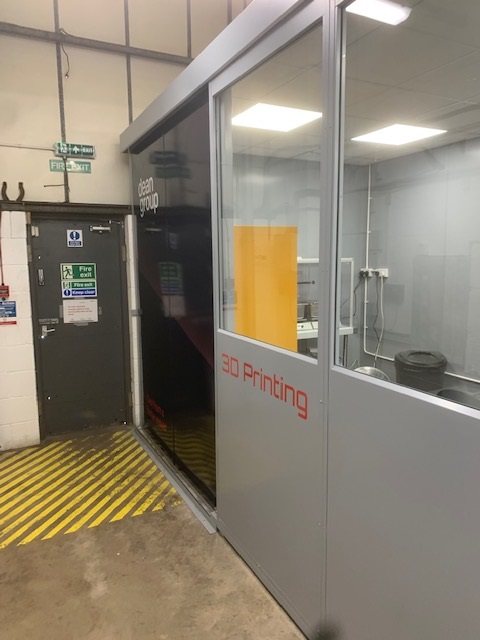 The Impact of 3D Printing on the Future of Investment Casting
We can see just how much benefit this technology will bring to our industry. It could result in the development of parts that could not be created through traditional casting methods or products out of alternative metals due to the way the technology works.
Certain metals can be printed using 3D printing technology, but the benefits of doing so don't yet outweigh the benefits of casting. The hybrid approach to casting prototypes in wax and then carrying out the traditional investment casting technique appears to be a much more accessible route.
It provides lower costs, better energy efficiency, less waste and a lower lead time than hard tooling.
If you believe our 3D printing investment casting prototyping can benefit your business, or want to know more about its role in creating the investment casting you require, contact our team on 0161 7751633 or email us at mailto:sales@deangroup.co.uk
‹ Back to News
Contact Us