Dean Group Celebrates Golden Jubilee Event
Since 1972, Dean Group has been a successful member of the UK manufacturing industry, creating high-quality castings from our foundry in Manchester and overseas. Our company's long history has had its trial and challenges, but we have always managed to achieve our goals and thrive as a company. We felt that reaching this rare landmark was worth celebrating with our dedicated team members.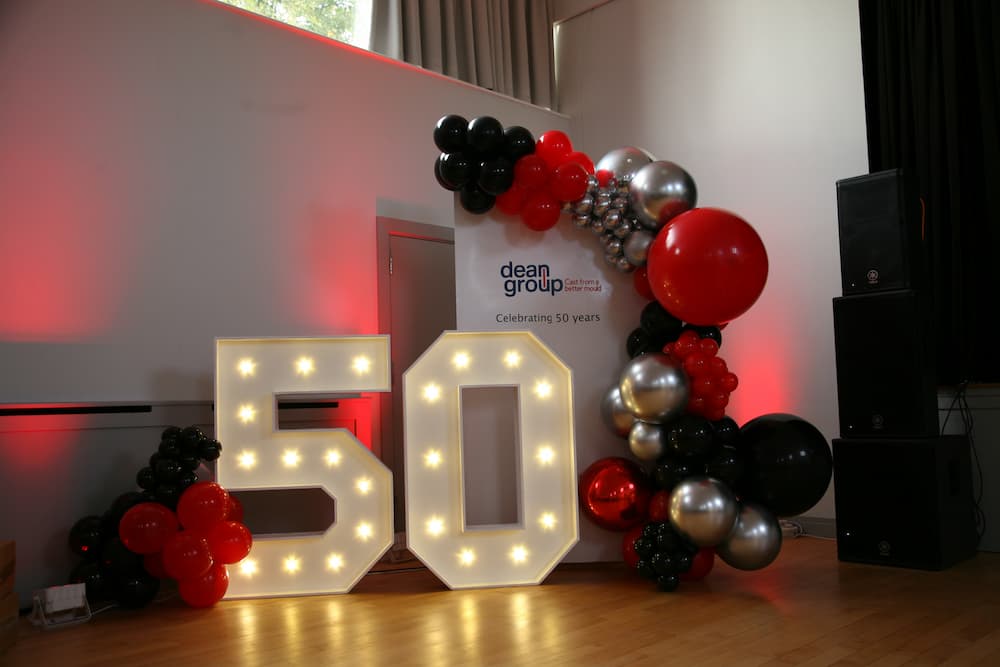 Black Swan Celebration
Just a few minutes down the road from our metal casting foundry is the venue where we chose to celebrate the company's 50th year in service. The Black Swan in Warrington is set in the quaint little village of Hollins Green and is a wonderfully peaceful area, which is surprising considering it's only a dozen miles from Manchester City Centre. This 300-year-old part of the community was a great location for us to invite all our employees, their families, and even some external business associates, such as suppliers and executives who have witnessed Dean Group's growth.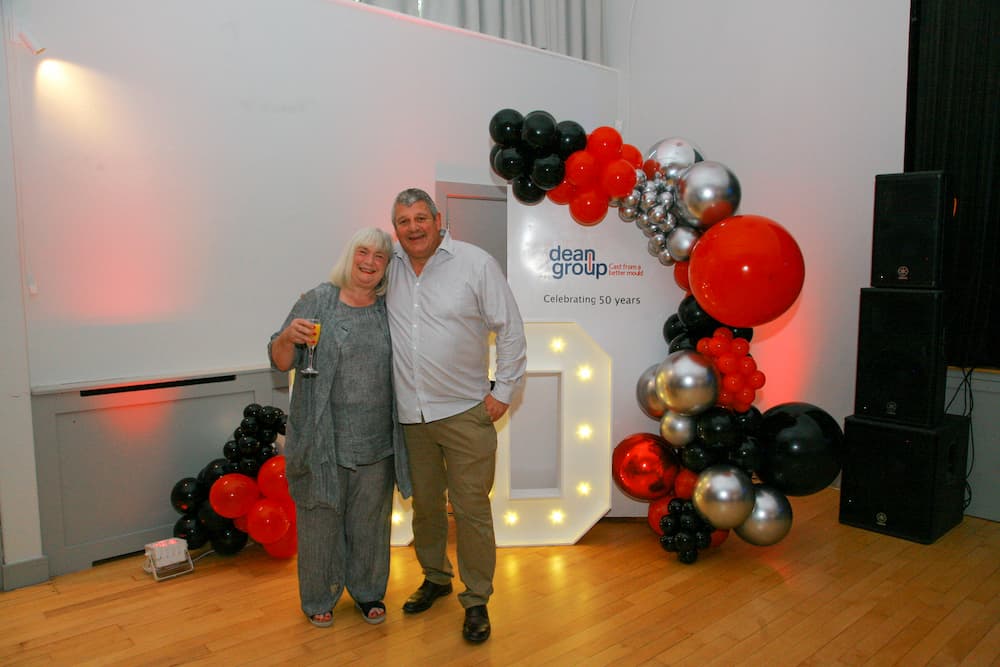 Roughly 80 guests attended the Black Swan to share stories and celebrate Dean Group's past achievements and the bright future we have ahead of us. The standout moment of the evening was the current managing director, Graham Stubbs, shared an impassioned speech about the company with everyone, concluding with:
"Dean Group is energised to welcome the next decade and our plans for the next ten years. We are heavily investing in the UK Foundry whilst continuing to develop our partner route further."
Three Generations of Manufacturing Excellence
The Chairman, Christopher Dean, was also in attendance and gave an emotional speech, recollecting the good old days. The Dean family is an integral part of this company in its past and future. The company was founded by Ray Dean in 1972 It wasn't until the early '80s when Christopher Dean and Carol Hutchinson joined the company and began a new generation of the Dean Family's journey within manufacturing.
Christopher Dean became the previous managing director in 1995 and has successfully steered the company through many challenges but also inspired them to receive awards from several notable organisations.
Under the guidance of the Dean family, this company has grown in leaps and bounds and continues to contribute to the UK manufacturing industry.
Dean Group has continued to grow and is now a three-generation family business. Sam Dean is successfully supporting the family name as an estimating engineer alongside Jack Hutchinson, who was recently promoted to the post of deputy production manager.

Who is Dean Group?
Dean Group is a family-owned and managed UK foundry that offers a variety of services, such as:
These vital services are either conducted at our Manchester facility or can be fulfilled through our international partners. Our team consists of engineers with significant expertise in metal castings to provide the highest quality results every time for our most popular service, investment casting. For higher volume orders, we offer a fully risk-managed, low-cost supply from China for either as cast or fully machined and finished castings.
All our supply partners and we are ISO 9001:2015 accredited as a minimum.  We achieve this by applying a strict quality control policy to all our work. Plan – Do – Check – Act is the cycle our engineers embrace as we conduct regular reviews on operational performance. We also ensure continuity to our work by supplying full chemical, dimensional and visual analysis related to our metal-provided manufacturing parts.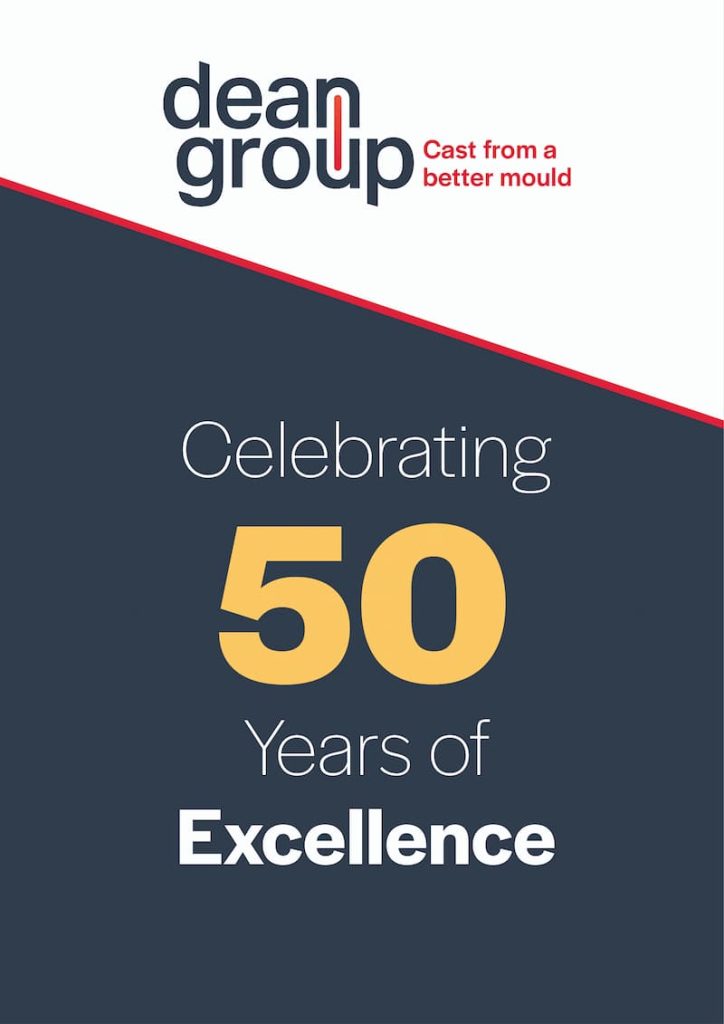 50+ years of Manufacturing Excellence
Dean Group has developed an extensive understanding of the needs of various markets through our five decades of metal manufacturing. We have worked with a broad range of companies within the transport sector, such as the automotive industry (both specialist and mainstream), aerospace and rail. We have also used complex casting simulation technology and CAD for product development and to assist infrastructures such as mining, renewables, and oil & gas.
Despite the nostalgic nature of reaching such an important landmark, Dean Group is not solely focused on the past but also the future. We are a company that keeps growing, improving and thriving thanks to our efforts to find new manufacturing processes and services.
One significant addition to one of our services was the investment in our new 3D printing for metal casting room. This was a part of the  £200,000 investment in 2022 to update and add new kit and technology to the foundry.
If you have any questions about our rapid casting prototyping or any other service, you can contact us here.
‹ Back to News
Contact Us