Stainless Steel
There are many different grades of Stainless Steel available depending on the environment and application. Stainless Steel is resistant to corrosion and staining. The chromium present in Stainless Steel creates an invisible film of chromium oxide when exposed to oxygen resulting in a corrosion resistant protective layer.
Stainless Steel is extremely well suited to Investment Casting and varied applications, the resulting castings produced can have thin sections, fine edges and good surface finishes. The tight cast tolerances can be improved by machining if required. Additional surface finishes can be applied such as Mechanical Polishing up to a mirror finish and Electro Polishing.
Key Industries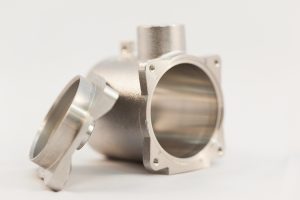 Architecture
Automotive
Aerospace
Food & Beverage
Oil & Gas
Marine
Rail
Typical Applications
Medical parts
Impellers
Exhaust Fittings
Pumps
Safety Equipment
Valves
Regulators
Filter bodies
Processes & Tolerances
Download the full material specification for Stainless Steel here.