Congratulating Bernard on Twenty Years With Dean Group
At Dean Group, we're proud to say that we have an excellent team working for us; they're the backbone of our company, the strength behind our expertise, and every one of them is a marvel.
They're also a loyal bunch – we have a number of long-time employees who have been with us for 20 years or more, both in the offices and on the shop floor. And now, we're pleased to congratulate the latest member of that group – our Design Manager, Bernard Morrissey.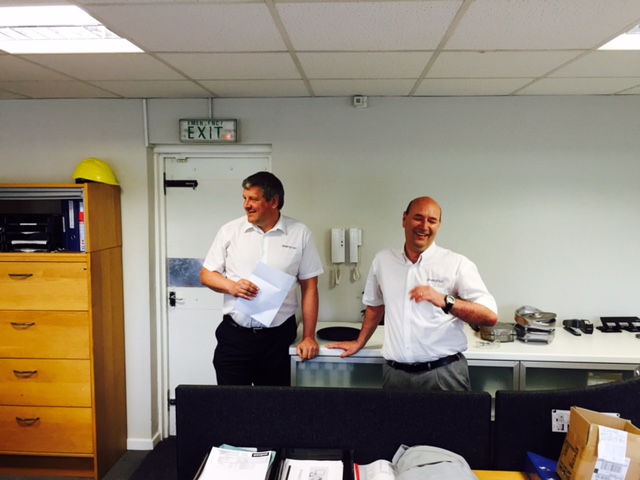 Bernard (right) accepts congratulations from Operations Director Graham Stubbs
Cast your minds back twenty years to 1996; it was the year that Independence Day came to the cinema, that the Spice Girls made their debut and Take That announced their split, we all sang "Three Lions" as England hosted the Euro championships, and the kids all wanted a Tickle Me Elmo for Christmas.
More importantly for us at Dean Group, it was the year Bernard joined us!
We thoroughly embarrassed him with a presentation in front of the whole company last Thursday, with Operations Director Graham Stubbs offering congratulations on behalf of the entire team.
To mark the occasion, Bernard chose a watch, one he'll hopefully be wearing around the office for some years still to come!
With a background in electrical switchgear, Bernard previously worked for Long and Crawford, who were clients of Dean Group at the time. Today, he's the expert hand overseeing the development stages of our work, playing a key role in optimising customer designs and ensuring long term quality. He also now has an understudy, James McKinnon, who is naturally keen to learn from the expertise of his mentor.
From all of us at Dean Group, we'd like to say congratulations to Bernard – and if you'd like to benefit from his expertise, please do get in touch with us on 0161 775 1633 today!
‹ Back to News
Contact Us